abc - the web accompaniment to the abc TV progamme "In the mind of the architect" with interviews and virtual tours. [05.05]
architecture australia - this magazine has a searchable online archive of issues covering many aspects of architecture in Australia. [05.05]
australian consulting architects - not much on this website. It has a 'find an architect' seach engine. The engine informed me that no architects would be interested in doing a house extension under $200,000 in Melbourne.[05.05]
Architectue Week this article in 2002 features Australian architecture, including an illustrated extract of George Michell and John Gollings book, New Australian Style. [05.05]
architecture.com.au - the RAIA's database of award-winning australian architecture can be found within the institute's site. [05.05]
butterpaper - you're soaking in it.
comfort zone - a Radio National programme, available to listen to, focussing on design and landscape. As of 2005 this programme has been eaten up by Saturday Breakfast. The last hour is still design oriented. [05.05]
diva - monash university visual arts photo libraries - includes Melbourne architecture (19th and 20th centuries) and Sydney architecture. [05.05]
key centre for architectural sociology - no holds barred articles about australian architecture and architectural education. [05.05]
our houses - The histories of Australian homes through the decades. [05.05]
Royal Institute of Australian Architects - portal for the institute. [05.05]
signs from the dreaming - an ABC site that's a good introduction to the aboriginal dreamtime, with a section on its significance to understanding land.
Towering ambitions - newspaper article about office block modernism in Australia - its history and the public perception. (SMH 23.04.02) [05.05]
technology in australia 1788-1988 - Chapter 6 - Construction and Building, by Sir John Holland. [05.05]
canberra, ACT
canberra house - a good site examining housing styles, architects and architecture through the century. [05.05]
an ideal city - an ANU student project and online exhibition, concerning the story of Canberra and the designs of Burley Griffin and Mahoney. [05.05]
canberra biennial - a new event dedicated to architecture and design. [05.05]

melbourne, victoria
aardvark - RMIT guide to Melbourne architecture of the '90s - well stocked with maps, photos and profiles.[02/05]
art deco society - a big group with a good site that includes inofrmation on about 20 buildings, and has an events diary. [02/05]
Buildings of St Kilda - Richard Pearson surveys the buildings of Melbourne's liveliest seaside suburb. [12/05]
Deans Lecture Series - Melbourne University Faculty of Architecture Building and Planning - a continuing series. All lectures start around 6.15pm and are usually free. Check the website for latest bookings. [02/05]
l'erma - a Melboune-centric site with photos of projects in construction in 1999. [02/05]
melbourne mansions database - Dr Miles Lewis' text database of old melbourne mansions. [02/05]
streetescape - In 2000 Andrew Garton swung his camera to take a look at these rapidly changing Melbourne Streets: Lygon, Brunswick and Smith. The movie doesn't seem to work. [02/05]
virtual exhibition - a web based exhibition of University of Melbourne 5th year students afew years back. [02/05]
the architects - a radio show on 3RRR 102.7FM hosted by Stuart Harrison and Simon Knott. Tuesdays at 7pm. [02/05]

sydney, new south wales

art deco society of nsw - site with an interest in buildings of the period, and a well-stocked links page.
building bookshop - this shop in Surry Hills bookshop puts on architecture talks towards the end of most months. [05/05]
national trust of NSW - a busy site with lots of event listings.
RAIA NSW - the architects institute site has plenty of info on institute events about town. [05/05]
SAW (sydney architecture walks) - back on with four walks, including 'Sydney', 'Harbourings' and 'Utzon'. Leaving from the Museum of Sydney. $20/15. The site also has local event information.

slide night
- an occasional slide night at the Spanish Bar in Sydney. Check the website for future events. Bit quiet in '05. [05/05]
summit - while in Sydney, check out the view from the top of Seidler's Australia Square tower. This bar / restaurant revolves about once every 2 hours. [01/03]
sydney scrapers - a small collection of pics of some tall buildings in Sydney (obscure.co.nz)
twentieth century heritage society of NSW - focusses on early 20th Century buildings in Sydney. The site has a downloadable PDF of buildings of note. [04/04]
University of Sydney - the Faculty of Architecture has regular Thursday night talks, which might be found here. [02/05]

brisbane, queensland

digilib - queensland architectural image database.
[LINK FIXED 01/02]

urban brisbane - photographs of Brisbane buildings, and a schedule of new buildings on the way. A very new site.
queensland picture theatres database - historic cinemas database, with some photos. This is a work in progress.
[01/02]
Waterfront's radical plan - news - Townsville to go under the knife. (Townsville Bulletin 24.09.03)

adelaide, south australia
radical interventions - Here's a profile of Danvers Schulz Holland, winners of a UNESCO Award of Merit for conservation. Ron Danvers is interviewed and has plenty to say about too precious Adelaide: "We need to get life back in the city. If we have to trade off a bit of heritage dogma, so be it." (Adelaide Review Feb 2004)
Urban Ecology - Christie Walk - Adelaide has a sustainable townhouse devlopment in its midst that looks to be worth a walk through - they have tours every fortnight. Read all about Christie Walk here. Jan Gehl calls it 'highly inspirational' so it must be OK.

perth, western australia
abc - a small photo archive of perth buildings worth saving.
Fading Events and Places - an Architecture Australia review of an exhibition examining the architecture of the 1962 Commeonwealth Games in Perth. [04/04]
mulholland - a couple of pages of buildings in the CBD, with commentary.
Philip Kirke - an architect writes about his experiences working for the remote Martu communities of Western Australia. An absorbing read. Go straight to the PDF file here, or get to it via this web page at www.ghd.com.au.

east timor
Meet a Day in the life of the new Dili
- Re: East Timor. Architect Norman Day's mission to Dili, RMIT architecture degree course now available in East Timor.

(AGE 07.10.02)
marshall islands
Traditional and modern house construction on the Marshall Islands - Charles Sturt University page examining traditional Marshallese building.

[11/02]
nauru
Restoring an island's paradise Re: Nauru, rehabilitating the moonscape. (AGE 03.11.01)

new caledonia
The Tjibaou Culture Centre Review by Auckland professor Mike Austin of Renzo Piano's contribution to (and borrowings from) architecture in the pacific.

[PANDER 2.0]
new zealand
BEACH HOUSE IN NORTHLAND, NEW ZEALAND.
JILL SHEPHERD ARCHITECT WITH SVB.
PHOTOS A. SILLS
architecturenz - a gallery of New Zealand architecture, run by the New Zealand Institute of Architects. [02/05]
Architectural Feasts & Remnants of Colonial Consumption - An essay by Sarah Treadwell, including discussion of hakari stages (maori food platforms). These structures were up to 90 feet high and up to two miles long.[PANDER 2.0]

Putting the art in architecture
New Zealand National Awards announcements. (NZ Herald 11.04.02)
In New Zealand - here's an article by a kiwi expat explaining to readers that New Zealanders live in timber houses which can be picked up and moved. Includes photos of timber houses.
auckland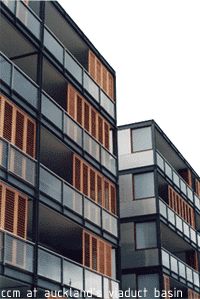 auckland city libraries - large searchable collection of historic auckland photographs.
britomart - large and long awaited transport station currently being constructed in downtown auckland.[11/02]
historic auckland - click on "places" to go to the database of registered buildings.
skyscrapers.com - profiles of 75 Auckland buildings.
tank farm project - the redevelopment of a massive petrochemical and industrial area in Auckland's docklands.
napier
art deco napier - a photo gallery of some of Napier's many art deco buildings built after the 1931 earthquake.
wellington
architectural centre - discussion and site tours in the Wellington area.[09/04]
heritage building inventory - a huge Wellington City Council site that with good descriptions and profiles of buildings [includes modern].
NZ Centennial Exhibition - a large collection of film clips showing the construction of the in Wellington from 1939 to 1940 can be viewed at the nzhistory.net.nz site. Spooky. Requires the REAL plug-in.
dunedin
Visit Dunedin - Dunedin was once the biggest city in New Zealand. You can tell this from the large number of fine old buildings.

RELATED PAGES :
asia
middle east
africa
europe
north america
south + central america

ARCHITECTS IN AUSTRALIA AND NEWZEALAND
: LINKS TO ARCHITECTS OWN WEBSITES AND ARTICLES ABOUT THEM.